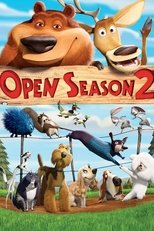 Open Season 2 quotes
83 total quotes
Fifi
Giselle
McSquizzy
Mr. Weenie
Taglines
View Quote
Open Season 2
quotes at the Internet Movie Database Retrieved from "https://en.wikiquote.org/w/index.php?title=Open_Season_2&oldid=2918247" Categories:
View Quote
[Gasps]
No! The food of oppression! I must be strong! ...Oh, maybe just a taste... Nein! Ja? Nein! Ja? Nein! Ja? Nein!
View Quote
[Sighs]
Poor, poor Weenie. Who knows the horrors you've seen?
View Quote
American children's animated comedy films
View Quote
As my single life ends, finishes, expires, perishes, goes down in a bizarre ball of flames with no survivors!
View Quote
Boog And Elliot Are Back For More Crazy Adventures!