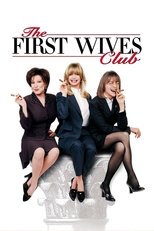 The First Wives Club quotes
10 total quotes
Brenda
Chris
Elise
View Quote
(Elise to her plastic surgeaon)
Elise
:Do it Morris, do it to me now, I need it. You're the only one who does it the way I like it. You're the king.
Morris
:Elise, if I give you any more collagen you're lips are going to look like they got stuck in a pool drain
View Quote
Aaron
:I want a divorce
Annie
:(shocked) BUT WE JUST MADE LOVE. I mean you asked me out. (Starts crying)
Aaron
:I asked you out to tell you, you know one last time, a goodbye kiss.
Annie
:But this wasn't just a kiss.
Aaron
:Annie don't be childish, you know how you manipulate me.
Annie
:What, manipulate, i.. i..(Realises what's going on). Oh my god, is there someone else.
Aaron
:Of course not this is abot us,... wel it's really about you...
(Dr. Leslie Rosen enters through front door)
Leslie
:Babe
All three stare at each other
Leslie
Oh my god
Annie
:Oh my god
Aaron
:Oh my god
Leslie
:This is very awkward
Aaron
:No no, Annie was just leaving
Leslie
:You told her?
Aaron
:I was totally upfront
Annie
:What? Excuse me.
Leslie
:Annie, this is rough, i know that
Annie
:ROUGH! Wait a minute, I don't understand. You are my therapist...
Leslie
:I'm a woman
Annie
:...he is my husband, oh.
Aaron
:Annie, we've been separated for months. Now let's not over-dramatise.
Leslie
:Aaron, she's aloud to be angry. Annie, let's use this; he's found somone new; you're free; closure.
Annie
:I am sorry, but that is not what this is, no.
Leslie
:Annie no, Annie you're not helping s out here, now i am sorry...
Annie
:SO AM I. I VERY SORRY I EVER MET YOU; AND I AM SORRY THAT I ALLOWED MYSELF TO LOVE YOU FOR ALL THOSE YEARS. I'M SORRY I DID NOTHING BUT BE THERE FOR YOU EVERY MINUTE OF EVERY DAY AND SUPPORT YOU IN YOUR EVERY MOVE!!! I'M SORRY!!!
(Starts crying and leaves)
View Quote
Brenda
:OK Elise, the time has come, spill. Those lips, what's in 'em. Are they wax?
Elise
:Excuse me?
Brenda
:What else did you have done? Come on Elise you can tell me. The cheek one, the jaw line. Did you have a little bit, or the full enchilada!
Elise
:I work out every day. I watch my diet. I have not had plastic surgery.
Annie
:Well good for you, you look terrific.
Brenda
:Oh come on. Elise your lying through your caps.
Elise
:Ok. All right, I have been freshened up a little.
Annie
:(Puts down wine glass) Oh god, does it hurt.
Elise
:(drinking) Mmmm, no.
Brenda
:What do they do with the stuff they take off? Do you get to keep it?
Elise
:Oh come on Brenda, it's the nineties for god's sake.
(Picks up cigarette and lights it)
I mean it's like... Plastic surgery is like good grooming, it's like brushing your teeth.
View Quote
Chris
:You're a doormat.
Annie
:Why are you so crabby today honey, is it school? I know what it is; it's a boy.
Chris
:I'm a lesbian mom. I'm a lesbian, but that's not the point.
Annie
:Well sweetie, when you say lesbian...
Chris
:And don't tell daddy, I want to tell him myself when the time is right. Like Father's day or Christmas morning.
Catherine
:Annie? Thank God you're all right. Where were you? Who saw you?
Annie
:Who saw me what?
Chris
:She was sleeping with daddy.
Catherine
:Oh muffin dear you've come to your senses i'm so happy.
Annie
:Mother, i am not sleeping with Aaron. He's just having some problems with his partners. He's feeling very conflicted and he needed somebody to talk to.
Chris
:Doormat!
Annie
:Lesbian!
View Quote
Morris
:You're 45! If I give you one more facelift you're going to be able to blink your lips. I mean don't you want to be able to play a part your own age?
Elise
:My own age? No no. You don't understand. There are only three ages for women in Hollywood. Babe, District Attorney, and Driving Ms Daisy. And right now, I want to be young, science-fiction young
View Quote
You don't owm me... dont try to tell me what i should do"
View Quote
Guess what, dad? I'm a lesbian. A big one.
View Quote
Wake up, Morty! Time to smell the audit!