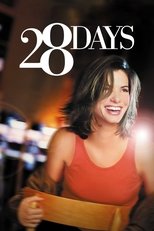 28 Days quotes
80 total quotes
Gwen Cummings
Jasper
Lily Cummings
Multiple Characters
Neck Signs
View Quote
[At Gwen's rehab]
Who the hell do you have to know to get a drink around here?
View Quote
[Betty is confiscating inappropriate items from Gwen's bag]
An eyelash curler? And what am I going to do with that? Stab myself? Curl my tongue to death?
View Quote
[Holding up a burnt bra]
Is this yours, or mine?
View Quote
[In response to the others learning that he follows a soap opera]
I only work every fifth day. Hell else am I supposed to do with my time.
View Quote
[shouts]
Oh my God! Look at my package!
View Quote
Attention all patients. Tonight's lecture is, "What's wrong with celebrating sobriety by getting drunk."
View Quote
Don't forget tonight's lecture, at 8:30: "How many brain cells did I kill last night?"
View Quote
Don't miss tonight's lecture, "Is God an alcoholic?"
View Quote
Everybody hurts everybody it's the human condition!
View Quote
God, I love afternoons like this. You know what's missing in this afternoon? That I don't have a very dry vodka martini with two olives in a chilled glass. God, I miss that.
View Quote
Gwen, you make it impossible to love you.
View Quote
Hey, listen. This isn't the last lousy day you're going to have here.
View Quote
Hi, my name is Cornell. I'm a drug addict, alcoholic, compulsive gambler-slash-liar.
View Quote
I am having a bad day! The worst damn day of my whole damn life! If it is not too much to ask will you all just back the **** off!