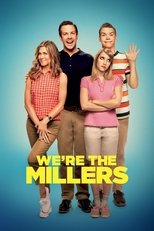 We're the Millers quotes
18 total quotes
David Clark
View Quote
[Rose has agreed to go on the trip at the last moment and has walked onto the plane]
Rose
: I want $30.000 now
David
: No ****ing way.
Rose
: Ok! Have safe flight!
David
: Wait! Ok, fine, fine. Blood sucker.
Rose
: Alright, happy wife, happy life!
View Quote
[Speaking to flight attendant]
David
: We're the Millers. Well you know, yeah, I got my hands full here. Couple of typical teenagers.
Casey
: Yeah, I'm going through all those typical teenage girls issues like finals, and college applications and who am I gonna get take to prom? Plus, why I haven't got my period in like two months which is really weird, because I've mostly just been doing anal.
[Kenny spews out soda that he'd been drinking]
David
: Oh, that's enough.
View Quote
[Speaking to Brad on the phone]
I'm here to pick up a smidge of pot. This is not a smidge of pot! You got me moving enough weed to kill Willie Nelson, man!