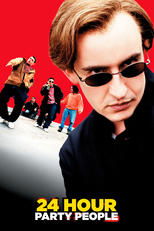 24 Hour Party People quotes
40 total quotes
Martin Hannett
Multiple Characters
Tony Wilson
View Quote
Tony Wilson
: You know, I think Shaun Ryder is on a par with W.B. Yeats as a poet.
Yvette
: Really?
Tony Wilson
: Absolutely.
Yvette
: Well, that is amazing, because everybody else thinks he's a ****ing idiot.
View Quote
[On learning about Tony's 'contract' with his bands]
Roger Ames
: Tony, you're ****ing mad.
Tony Wilson
: Well, that is a point of view.
View Quote
[Tony Wilson has just had a vision of God - who looked exactly like Tony Wilson]
Tony Wilson
: It's says so in the Bible, though, doesn't it? 'God made man in His own image'.
Rob Gretton
: Yeah - but not a
specific
man.
View Quote
[About the Happy Mondays]
Every band needs it's own special chemistry. And Bez was a very good chemist.
View Quote
[About the music scene surrounding the Hacienda]
It was like being on a fantastic fairground ride, centrifugal forces throwing us wider and wider. But it's all right, because there's this brilliant machine at the center that's going to bring us back down to earth. That was Manchester. That is the Hacienda. Now imagine the machine breaks. For a while, it's even better, because you're really flying. but then, you fall, because nobody beats gravity.
View Quote
[After a stoned Martin Hannett tries to set fire to him]
I am not a piece of hash. I'm in charge of Factory Records. I think.
View Quote
[After Lindsay storms off when catching him with the prostitute; to Lindsay]
I love you!
[To the prostitute]
Don't stop.
View Quote
[after Shaun Ryder fires a gun in his general direction]
You want to be careful with that, Shaun. You could take somebody's eye out.
View Quote
[At a gig at the Hacienda]
And tonight something equally epoch-making is taking place. See? They're applauding the DJ. Not the music, not the musician, not the creator, but the medium. This is it. The birth of rave culture. The beatification of the beat. The dance age. This is the moment when even the white man starts dancing. Welcome to Manchester.
View Quote
[First address to camera; after his hang-gliding news report]
You're going to see a lot more of that sort of thing in the picture. I don't want to say too much, don't want to spoil it. I'll just say one word: 'Icarus'. If you get it, great. If you don't, that's fine too. But you should probably read more.
View Quote
[On Joy Division's drumming]
There was nothing wrong with the drumming as such. It's just people have been playing like that for the past 20,000 years and quite frankly I'm ****ing bored with it.
View Quote
[On learning how much came out of the music budget to build the Hacienda]
Well, this is goodbye. I mean, we obviously have nothing in common. I'm a genius, you're all ****ing wankers. You'll never see me again. You don't deserve to see me again.
View Quote
[To Martin Hannett]
You can't threaten me, Martin. You're a big man, but you're out of shape. Although you could sit on me.
View Quote
[When catching Lindsay having sex with another man out of spite]
I just got a blowjob. That's full penetration.
View Quote
[When caught receiving an act of oral sex from a prostitute by his wife Lindsay]
It's not what it looks like, love!