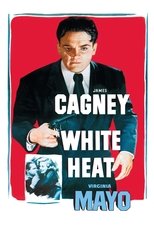 White Heat quotes
18 total quotes
Arthur "Cody" Jarrett
View Quote
Note: ranked #18 in the American Film Institute's list of the top 100 movie quotations in American cinema
.
View Quote
You know something, Verna, if I turn my back for long enough for Big Ed to put a hole in it, there'd be a hole in it.
[he laughs]
Big Ed ... great big Ed. Y'know why they call 'im that? 'Cause his ideas are big. One day he's gonna get a really big one ... about me. And it'll be his last.
View Quote
You're just lonesome, lonesome, like me...Verna? All I ever had was Ma...I was, uh, I was just walkin' around out there talkin' to mine...well, my old lady never had anything, always on the run, always on the move - some life. First there was my old man, died kickin' and screamin' in a nuthouse. Then my brother. And after that, it was takin' care of me. Always tryin' to put me on top. Top of the world, she used to say. And then, times when I was losin' my grip, there she'd be right behind me, pushin' me back up again. And now...That was a good feelin' out there, talkin' to her, just me and Ma. Good feelin'. Liked it. Maybe I
am
nuts.