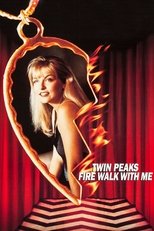 Twin Peaks: Fire Walk with Me quotes
23 total quotes
Donna Hayward
Laura Palmer
Other
Special Agent Dale Cooper
View Quote
James
: You always hurt the ones you love.
Laura
: You mean the ones you pity.
View Quote
Jeffries
: Well now, I'm not gonna talk about Judy. In fact, we're not gonna talk about Judy at all, we're gonna keep her out of it.
Cooper
:
[bewildered]
Gordon?
Gordon
: I KNOW, COOP!
Jeffries
: Who do you think this is there?
Albert
: Suffered some bumps on the old noggin, hey, Phil?
Gordon
: WHAT THE HELL DID HE SAY THERE, ALBERT? THAT'S SPECIAL AGENT DALE COOPER! FOR GOD'S SAKES, JEFFRIES, WHERE THE HELL HAVE YOU BEEN? YOU'VE BEEN GONE DAMN NEAR TWO YEARS!
Jeffries
: The stories that I wanna tell you about...
View Quote
Laura
: I'm gone. Long gone. Like a turkey in the corn.
James
: You're not a turkey. A turkey is one of the dumbest birds on earth.
Laura
: Gobble-gobble.
View Quote
Laura
: My secret diary... there are pages missing.
Harold Smith
: Who would do that?
Laura
: Bob.
Harold Smith
: But, Bob is not real.
Laura
: There are pages torn out! That is real, Harold!
Harold Smith
: Okay, okay, maybe...
Laura
: Bob is real! He's been having me since I was 12. And, the diary was hidden too well. There is no other person who could have known where it was. He comes in through my window at night. He's real. He's getting to know me now. He speaks to me.
Harold Smith
: What does Bob say?
Laura
: He says he wants to be me, or he'll kill me.
View Quote
[into his mini-tape recorder]
Diane, it's 4:20pm. I'm standing here at the Wind River near the location where the body of Teresa Banks was found. Diane, this case gives me a strange feeling. Not only has Special Agent Chester Desmond dissappeared without a trace, but this is one of Cole's blue rose cases. The clues that were found by Special Agent Desmond and Agent Stanley have led to dead ends. The letter that was extracted from beneath the fingernail of Teresa Banks gives me the feeling that the killer will strike again. But like the song goes, "who knows where, or when?"
View Quote
[to Harold]
You have to hide the diary, Harold. You made me write it all down. He doesn't know about you. You'll be safe.
View Quote
[to Laura]
If I had a nickel for every cigarette your mom smoked, I'd be dead.