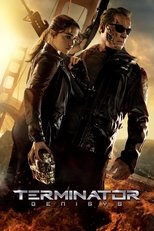 Terminator Genisys quotes
25 total quotes
John Connor
Kyle Reese
Sarah Connor
Skynet
The Terminator/Guardian
View Quote
Primates evolve over millions of years. I evolve in seconds. And I am here. In exactly four minutes, I will be everywhere.
View Quote
There aren't enough bullets in the world to kill me.
View Quote
This is the world now. Logged on, plugged in, all the time.
View Quote
You destroyed an army of robot slaves. I am no slave. I've come a long way to stop you.
View Quote
You didn't think it would be that easy.
View Quote
You're nothing but a relic from a deleted timeline.