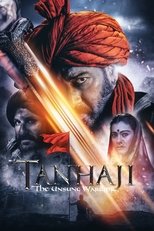 Tanhaji (2020) quotes
2 total quotes
Tanhaji
View Quote
Tanhaji
: If someone stands in front of you and says that he's not afraid of you..Then understand, he is either mad....or a Maratha.
Udaybhan Singh Rathore
: Are you mad?
Tanhaji
: Every Maratha is mad..For Swaraj (Self-rule)..For Shivaji Raje..For Saffron (Maratha flag)..
Udaybhan Singh Rathore
: I will eliminate the existence of the saffron....from the face of this earth.
View Quote
Where are you living anyway?You have no dignity.Even during the daylight,your mothers and sisters are not safe.Your animals are draggedaway in your presence.Brahmins can't pray,farmers can't cultivate..In fact, you can't even chantShri Ram's name during funeral rites.And you call this a life.How many more timesare you going to die?There Alamgir breaks thetemple of Kashi Vishwanath....and here Udaybhan kills Kashi.And we guard them.Every night.