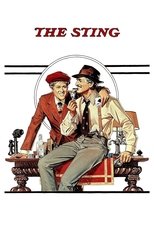 The Sting quotes
21 total quotes
Doyle Lonnegan
FBI Agent Polk
Henry Gondorff
View Quote
[to Gondorff]
Not only are you a cheat, you're a gutless cheat as well.
View Quote
[to Snyder]
Sit down and shut up, will ya?
Try not to live up to all my expectations
.
View Quote
No sense being a grifter if its the same as bein' a citizen.
View Quote
Sorry I'm late, guys, I was takin' a crap.
View Quote
You see that fella in the red sweater over there? His name's Donnie McCoy. Works a few of the protection rackets for Cunnaro when he's waiting for something better to happen. Donnie and I have known each other since we were six. Take a good look at that face, Floyd. Because if he ever finds out I can be beat by one lousy grifter, I'll have to kill him and every other hood who wants to muscle in on my Chicago operation.