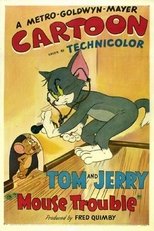 Mouse Trouble quotes
2 total quotes
View Quote
[repeated line]
Wind-up Female Mouse
: Come up and see me sometime.
View Quote
[Tom corners Jerry and then consults his book for advice - A CORNERED MOUSE NEVER FIGHTS. Tom uses this knowledge to attack... they both start a huge fight, and Tom gets moderately thrashed and bruised by Jerry]
Tom
:
[to the audience; said very slow]
Don't you believe it!