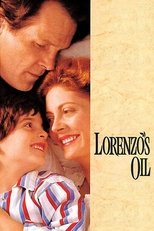 Lorenzo's Oil quotes
18 total quotes
Professor Nikolais
View Quote
(Lorenzo crying)
Dr. Judalon
: I'm sedating him as much as I dare. I don't know what else to do.
Augusto Odone
: How can he endure this for so many hours?
Dr. Judalon
: Augusto, I don't think he'll have to endure this much longer.
(Lorenzo screaming)
View Quote
(Lorenzo sobbing)
Augusto Odone
: Michaela, let me take him. You need rest.
Michaela Odone
: I'm fine. I could use a cup of coffee though.
Augusto Odone
: Okay.
(Lorenzo continues sobbing)
Michaela Odone
: Lorenzo, Lorenzo, listen to Mama. Can you hear me, my darling? If this is too much for you, my Sweetheart… well then, you fly. Fly as fast as you can to the Baby Jesus. It's okay, Mama and Papa will be okay.
(Lorenzo crying)
View Quote
Do you know how many children die every year from choking on french fries? Many more than from Adrenoleukodystrophy. You see, ours is what is known as an orphan disease, too small to be noticed, too small to be funded, especially with the iron hand of "Reaganomics".