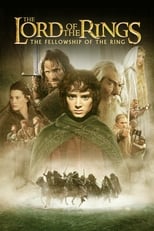 The Lord of the Rings: The Fellowship of the Ring quotes
80 total quotes
Frodo Baggins
Galadriel
Gandalf the Grey
Gimli
Samwise Gamgee
Saruman the White
View Quote
(last words) I would have followed you, my captain, my king....
View Quote
(aside)
Mordor, Gandalf - is it left or right?
View Quote
(musing on the Ring)
Riddles in the Dark. My precious.
View Quote
(of the inscription on the Ring)
In the Common tongue it says, "One Ring to rule them all, One Ring to find them, One Ring to bring them all, and in the darkness bind them."
View Quote
(of the Ringwraiths)
They were once men; great kings of men. Then Sauron the Deceiver gave to them nine Rings of Power. Blinded by their greed, they took them without question, one by one falling into darkness. Now they are slaves to his will. They are the Nazg├╗l: Ringwraiths, neither living nor dead. At all times they feel the presence of the Ring, drawn to the power of the One. They will never stop hunting you.
View Quote
(reading the last words of Balin)
They have taken the Bridge, and the Second Hall. We have barred the gates, but cannot hold them for long. The ground shakes. Drums, drums in the deep. We cannot get out. Shadow moves in the dark. We cannot get out. They are coming.
View Quote
(singing)
The road goes ever on and on / Down from the door where it began / Now far ahead the road has gone / And I must follow if I can...
View Quote
(to Boromir)
I do not know what strength is in my blood, but I swear to you I will not let the White City fall...nor our people fail.
View Quote
(to Sam)
You have a stout heart, little Hobbit. But that will not save you.
View Quote
I amar prestar aen.
The world is changed.
Han mathon ne nen.
I feel it in the water.
Han mathon ne chae.
I feel it in the earth.
A han noston ned 'wilith.
I smell it in the air. Much that once was is lost, for none now live who remember it.
View Quote
[Pippin knocks a skeleton down a well, creating a huge clatter]
Fool of a Took! Throw yourself in next time and rid us of your stupidity!
View Quote
A wizard is never late, Frodo Baggins. Nor is he early. He arrives precisely when he means to.
View Quote
Always remember, Frodo, the Ring is trying to get back to its master. It wants to be found.