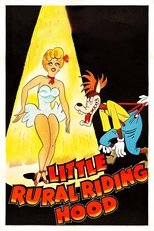 Little Rural Riding Hood quotes
3 total quotes
Country Cousin
View Quote
City Wolf
: Oh, I'm terribly sorry, cousin, but this city life is a bit too much for you. I shall have to motor you back to the country.
[He drives Country Cousin back to his home in the country]
Country Red
: Eh, howdy, boys.
[City wolf sees Red and goes through the same wild reactions that his country cousin went through; Country Cousin knocks him out with a mallet and puts him back in the car]
Country Cousin
: Sorry, cousin. This country life is a bit too much for ya. I guess I'll have to drive ya back to the city!
View Quote
Folks, confidentially, I'm not the real grandma. I'm the wolf, see? Now, I'm supposed to eat Red Riding Hood all up, but I ain't a-gonna do it. All I'm going to do is chase her and catch her and kiss her and hug her and love her and hug her and...
[giggle fit]