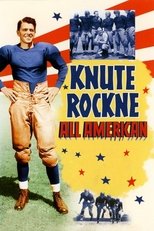 Knute Rockne, All American quotes
3 total quotes
Father John Callahan
Knute Rockne
View Quote
Anyone who follows the truth in his heart never makes a mistake.
View Quote
Now I'm going to tell you something I've kept to myself for years. None of you ever knew George Gipp. He was long before your time, but you all know what a tradition he is at Notre Dame. And the last thing he said to me, "Rock," he said, "sometime when the team is up against it and the breaks are beating the boys,
tell 'em to go out there with all they got and win just one for the Gipper
. I don't know where I'll be then, Rock," he said, "but I'll know about it and I'll be happy." The bolded portion of this quote was ranked #89 in the American Film Institute's list of the top 100 movie quotations in American cinema.
View Quote
Who can say for certain what a man was really born to be? That's God's will. Someday Knute will find his right place in the world, and when he does, whether it be science or not, I have a feeling it will be the one he was meant to do.