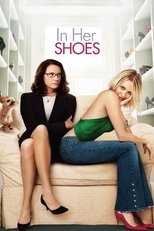 In Her Shoes quotes
2 total quotes
View Quote
Maggie
: SHUT UP YOU FAT PIG!!
Rose
: Did you honestly just say "Fat pig"? You're my sister...and the best you can do is "fat pig"? :
[slams Maggie against the wall]
GET OUT OF MY LIFE!!
Maggie
: Oh!
[starts sobbing]
View Quote
Rose
: I think you should get a job so you don't have to mooch off me for everything.
Maggie
: What are you talking about? I just got us two rounds of drinks.
Rose
: No, Cuervo Carl got the drinks and only because he's hoped you'd sleep with him.
Maggie
: Well, I didn't.
Rose
: You need a job Maggie.
Maggie
: I'll get one, When im ready.
Rose
: There's a whole world out there that has nothing to do with sex you know.
Maggie
: What the **** is that supposed to mean?