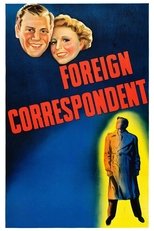 Foreign Correspondent quotes
18 total quotes
Carol Fisher
John Jones
Others
View Quote
It's lovely, isn't it? Sort of makes you forget all about the war and troubles. It would be nice if we could just keep flying for a long time, live in the clouds.
View Quote
Listen, I know I look a fool, but there's something fishy going on around here. There's a big story in this. I can smell it, I can feel it, and I'm gonna get to the bottom of it if it's the last thing I do. Nothing's gonna stop me. Do you understand? I'm gonna prove that that wasn't Van Meer that was assassinated, but his double.
View Quote
Well, there but for the grace of God. I still don't know what instinct made me step aside when he came at me...I heard the lift coming up, and I turned. I saw that look in his eyes as he came toward me. In that split second, the whole thing flashed through my mind. All I could think of was Fisher. Fisher planned this. Then I guess I just stepped aside and over he went.