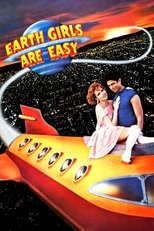 Earth Girls Are Easy quotes
1 total quotes
View Quote
Mac
: Joe, take us to hospital, please.
Joe
: Hey, clown, you're going to the slammer!
Mac
:
[looks at Mike, then at Valerie]
We go to slammer first.
Valerie
:
[to Mac]
Listen, give them that love touch, then they'll come on to me. They'll be putty in my hands.
Mac
: You want sex with Joe and Mike?
Valerie
: No, no, just so we can get away. Do it, do it! You'll see.
Retrieved from "https://en.wikiquote.org/w/index.php?title=Earth_Girls_Are_Easy&oldid=2542540" Categories: Wikiquote no introFilm stubs Navigation menu