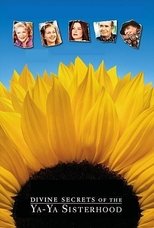 Divine Secrets of the Ya Ya Sisterhood quotes
1 total quotes
View Quote
Vivi
: I tried to be the best momma I could.
Conner
: How'd that go?
Vivi
: Not so hot.
Sidda
: I am sick of fighting! And, I am sick to death of this whole center of the universe, holier than thou, nothing is ever enough. "Oh, how I've suffered, nobody understands me. Somebody fix me a drink and hand me a Nebutol," worn out Scarlett O'Hara... thing!
Caro
: Well, she's got her pegged, all right.
Wikipedia has an article about:
Divine Secrets of the Ya-Ya Sisterhood (film)
Retrieved from "https://en.wikiquote.org/w/index.php?title=Divine_Secrets_of_the_Ya-Ya_Sisterhood_(film)&oldid=1554629" Categories: Film stubs2002 filmsAmerican films Navigation menu