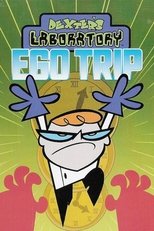 Dexter's Laboratory: Ego Trip quotes
2 total quotes
View Quote
Old Man Dexter
:
[thundering voice from inside a tower]
WHOO DARES TO DISTURB THE GREAT DEXTER WHILE HE DROPS SCIENCE UPON THE WORLD?
Dexter
: We are the Dexters of the past. We have come from the past to try to reach your all-knowing presence!
Old Man Dexter
: PRESENTS? I DIDN'T KNOW IT WAS MY BIRTHDAY? I'LL BE RIGHT DOWN!
View Quote
[The Mandarks rally to stop the Dexters from getting the Neurotomic Proto-Core]
Young Mandark
: NOOO! I've always wanted the Core!
Adult Mandark
: NOOO! I stole the Core!
Overlord Mandark
: NOOO! The Core is mine!
Mandark's Brain
: NOOO! Just because I'm bitter and jealous!