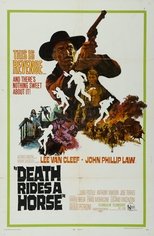 Death Rides a Horse quotes
2 total quotes
View Quote
Ryan
: Somebody once wrote, "Revenge is a dish that has to be eaten cold." Hot as you are, you're liable to end up with indigestion.
View Quote
[Once again following Ryan to recover his horse, Bill arrives at the Holly Spings train station.]
Station Master
: This guy told me a pal of his'd be coming along. He said I should give you the horse and a kiss. The horse is there, waiting for you. Eh, n-now, where do you want that kiss?
Bill
:
[grimacing]
No thanks. I'll settle for the horse.