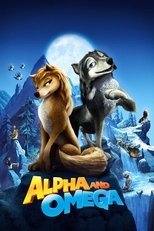 Alpha and Omega quotes
30 total quotes
Kate
Mooch
Paddy
Reba and Janice
Salty
Taglines
Voice cast
View Quote
Ayn Olivia Vaughan - Outhouse Lady (Uncredited)
View Quote
Ben Gluck - Radio Announcer (Uncredited)
View Quote
Forget about it, Humphrey! Kate's an Alpha now, and you're an Omega.
View Quote
I can almost taste the wind! Or is that a bug? [
He spits out a fly
]
View Quote
I just want to say one thing. If any of you wolves have hurt my daughter, I will personally
rip
out your eyes and shove 'em down your throat so you can see my claws... '
[angrily]
...tear your carcass open!
View Quote
I mean, come on! The caribou are laughing at us. Now that's a moon I don't wanna howl to.
View Quote
I'm still gonna tear this snaggle tooth apart!
View Quote
It's okay, dad. I understand, it's... It's my responsibility
View Quote
Jason Ortenberg & Andrew Ortenberg - Squirrels