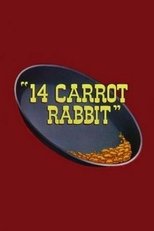 14 Carrot Rabbit quotes
1 total quotes
View Quote
Bugs Bunny
:
[as Sam digs for gold]
Maybe I should help. After all, we're partners.
Yosemite Sam
:
[stops digging]
Partners?
Our partnership has dissolved. This is all mine! Now beat it!
[Yosemite Sam throws rocks at Bugs]
Bugs Bunny
: Well, of all the double-crossing...
[Bugs sees that Sam is close to making a hole through the cliff]
Bugs Bunny
: Gee, I couldn't do that to the little guy. Hey, Sam!
Yosemite Sam
:
[throws a rock at him, but, misses]
SHUT UP!
[Yosemite Sam continues digging, until he makes a hole and falls into the abyss below. All the while, Bugs just munches on a carrot]